Your Own Custom
Online Ordering.
0%. No work.
Improve Operational Efficiency.
You can accept any amount of orders at once. No bottleneck with staff availability or with answering the phones. Online orders can be sent directly to the kitchen and even printed. All this leads to smaller lines, lower wait times and less chance of incorrect orders.
Improve Customer Loyalty, Aquire New Customers.
Yay3 Online Ordering makes it easier for consumers to place an order. They can easily re-order their favorites, not needing to wait in a line and no errors in their order. That improves your relationship with them and in-turn leads to greater ordering frequency.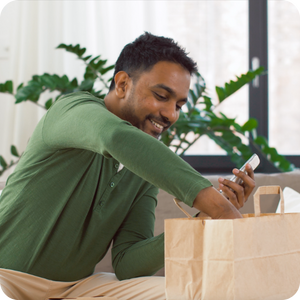 Gain More Freedom, We Do The Work.
Yay3 does all the setup work for you, including a website! Our local team will do the training + installation, as well as provide on-going support. All at 0% commission to you
Our Program includes a complete marketing program for both in-store and on social media, plus Google optimization to help more customers find you online.
Capture Greater Sales and Revenue.
Yay3 offers more options to help you grow. Pick-up, deliveries, reservations, even contactless table ordering. We design the program to fit smoothly with your existing procedures, so you can focus on growing your business.
Less Calls, more orders & more money for you
Your own web app at 0% commission in your name & logo
We Set up & provide 24/7 support
Includes local marketing & Google SEO
Real time updates & instant kitchen printing
Order Direct, Support Local
It's That Simple
Yay3 began in March 2021 as a solution to help local businesses escape the high cost of working with corporate online ordering systems. Yay3 is a product of the company Yay! Local which has provided the Raleigh area with affordable marketing and advertising solutions for 15 years now.
Most 3rd party ordering systems charge expensive fees. That's where Yay3 is different. We created Yay3 to help benefit local Raleigh businesses and provide them with a web app to continue to sell their food online but without any extra fees. With Yay3, customers order directly through you, not us. We'll help manage your ordering system and all of the revenue will go directly to you. Seriously.
We will design and set up your very own ordering system tailored to your business as well as provide ongoing management and support. And, believe it or not, all at 0% commission. What's the catch? There isn't one. We simply will add an online ordering service fee that will be automatically be applied to customers carts upon checkout. This fee will go directly to us to help maintain your system while allowing you to keep ALL of the revenue earned from the online system.
Why Your Business Will Make
More Money With Yay3
Move your clients away from high-cost ordering to 0% commission and grow your overall business and:

• build your brand - not ours
• reduce your costs
• improve operational efficiency
• grow profitable revenue
• reduce work for you & your team
• attract more customers

•We charge you 0% commission on transactions (you pay standard credit card processing fees), but you keep all the revenue.
• We market your business online and in store continuously to bring you more 0% commission orders
• We use only your brand and domain name everywhere for stronger recognition
• We are local, 7 days a week support in person on demand - when you need it
• We do all this for you - at no cost!

What makes us better and different?
The Lowest Cost and Least Effort for you
We charge 0% commission. We are the only 0% commission online ordering system in NC - Local Installation and Support 7 days - Orders print automatically - Less Phone calls
Includes Web Marketing & Google Ranking
We optimize your Google My Business, Google Maps, Apple Maps, Facebook and Yelp - Increase & improve links
Inclues Instore Print Advertising & Signage
Flyers – Posters – Window Clings – Pick up Signs – Take out menus – QR Code signs & stickers
The Best User Experience and Highest Satisfaction Rates
The easiest and most attractive web app to increase ordering - Live updates for improved satisfaction - Easy to use & learn - Reliable AWS servers - Locally Owned and Operated
We do the Marketing For You. Here's How:
In-Store Signage / Print Products
Table ordering with custom QR Code ordering stickers or cards
Customized X-Frame for restaurant entryway 
Customized take-out menus
Flyers, Posters, Window clings & so much more available to advertise ordering pick up through your new customized ordering site
Google My Business & Facebook Posts
Not only do we offer comprehensive GMB optimization to increase you Google Ranking but also offer social media posting for you Facebook account and GMB account. 
We will post once every two weeks for you with a customized design advertising pick up from your restaurant. 
Customize your receipt by adding a special message or request. 
Can add QR code to the bottom of receipts for "Scan here to leave us a review!" 
Copyright © 2023, Yay! Local
CALL, TEXT, OR EMAIL TODAY FOR A FREE DEMO!
– ORDER DIRECT. SUPPORT LOCAL –